About USM
UNIVERSITI SAINS MALAYSIA (USM)
Established as the second university in the country in 1969, Universiti Sains Malaysia (USM) was first known as Universiti Pulau Pinang. In 1971, USM moved from its temporary premises at the Malayan Teachers' Training College, Bukit Gelugor to the present 416.6-hectare site at Minden, approximately 9.7 km from George Town.
USM offers courses ranging from Natural Sciences, Applied Sciences, Medical and Health Sciences, Pharmaceutical Sciences to Building Science and Technology, Social Sciences, Humanities, and Education. These are available at undergraduate and postgraduate levels to approximately 30,000 students at its 17 Academic Schools on the main campus in the island of Penang; 6 Schools at the Engineering Campus in Nibong Tebal (approximately 50 km from the main campus); and 3 at the Health Campus in Kubang Kerian, Kelantan (approximately 300 km from the main campus).
USM also has 17 dedicated research centres for a wide range of specialisations, which include archaeology, medicine and dentistry, molecular medicine, science and technology, Islamic development and management studies, and policy research and international studies. It also provides consultancy, testing, and advisory services to the industry under the ambit of Usains Holding Sdn Bhd, the University's commercial arm.
As a research-Intensive University recognised by the Ministry of Higher Education Malaysia (MOHE) in 2007, USM offers educational and research opportunities to students and staff. In 2008, USM also became the first university in the country to be selected by the Malaysian government to participate in the Accelerated Programme for Excellence (APEX), a fast-track programme that helps tertiary institutions achieve world-class status.
THE MISSION AND VISION OF USM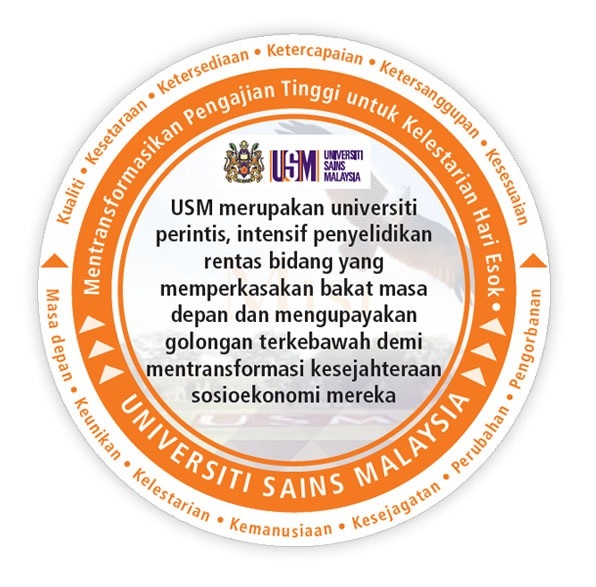 Vision: "Transforming Higher Education for a Sustainable Tomorrow
Mission: USM is a pioneering, transdisciplinary research-intensive university that empowers future talents and enables the bottom billions to transform their socio-economic well-being.
Value: Quality, Equality, Availability, Accessibility, Affordability, Appropriateness
Thrust: Knowledge, The Future, Uniqueness, Sustainability, Humanity, Universality, Change, Sacrifice, Wellness